Reliable 9-Day Summer-Body Diet Challenge
|
Because the summer is in progress, so all ladies are trying to lose weight in a short time, so many women tend to reduce their size using sports exercises, but many ladies just do not have enough time for sports, and they decide to lose weight by using diets.
It's also worth noting that most of you have noticed that in the summer, weight loss is easier than in winter, because it is a fact that fresh fruits and vegetables can be eaten in the summer, and if you have been eating harmful for a long time food, you can not start your diet immediately, because it will only harm your body.
What you should initially do is to abandon harmful food, gradually adding useful food, which only contributes to the weight loss process and then if you need to get a quick result, you can try this 9-day summer diet challenge, which will help you get rid of a few pounds in just 9 days.
Also, what you need is to try to eat plenty of fresh fruits and vegetables, because they contain many useful substances, then try to drink as much water as possible, you can replace the water with green tea. Also talking about meat, you can eat boiled or roasted meat, it is best to eat meat for lunch or for dinner. So you have to stick to a plan and a diet to get results. Also, do not forget that you also need to be physically active.
So, you can try these great meals:
#1. CHICKEN WRAP WITH STICKY SWEET POTATO, SALAD LEAVES & TOMATOES
What you need: sweet potatoes, multigrain wraps, salad leaves, chicken and cherry tomatoes.
#2. VANILLA-ALMOND CHIA BREAKFAST BOWL
What you need is oats, almond milk, vanilla extract, low-fat yogurt, chia seeds, blueberries, almond and honey.
#3. BUTTERNUT AND HARISSA HUMMUS
What you need: squash, garlic, olive oil, tahini paste, harissa, chickpeas.
#4. TUNA, AVOCADO AND PEA SALAD IN BABY GEM LETTUCE WRAPS
What you need is
yogurt, tuna, rice, peas, pepper, avocado, lime juice, coriander and Baby Gem lettuce.
#5. PRAWN, BUTTERNUT AND MANGO CURRY
What you need: squash, brown rice, rapeseed oil, onion, ginger, garlic, red chili, turmeric, cumin, coriander, mango, spinach, coconut milk, prawns, soy sauce, lime juice and coriander.
#6. FALAFELS WITH HUMMUS AND TABBOULEH
What you need is cumin, coriander, chickpeas, butter beans, lemon juice, egg yolk, parsley, flour, tahini paste, olive oil, mint, onion, cucumber and tomatoes.
#7. CAJUN GRILLED CHICKEN WITH LIME BLACK-EYED BEAN SALAD AND GUACAMOLE
What you need: chicken breasts, thyme, oregano, paprika, rapeseed oil, pepper, canned beans, tomatoes, canned sweetcorn, onion, tomatoes, lime juice, coriander, avocado and chili.
You can also follow this exercise plan shown in the picture below.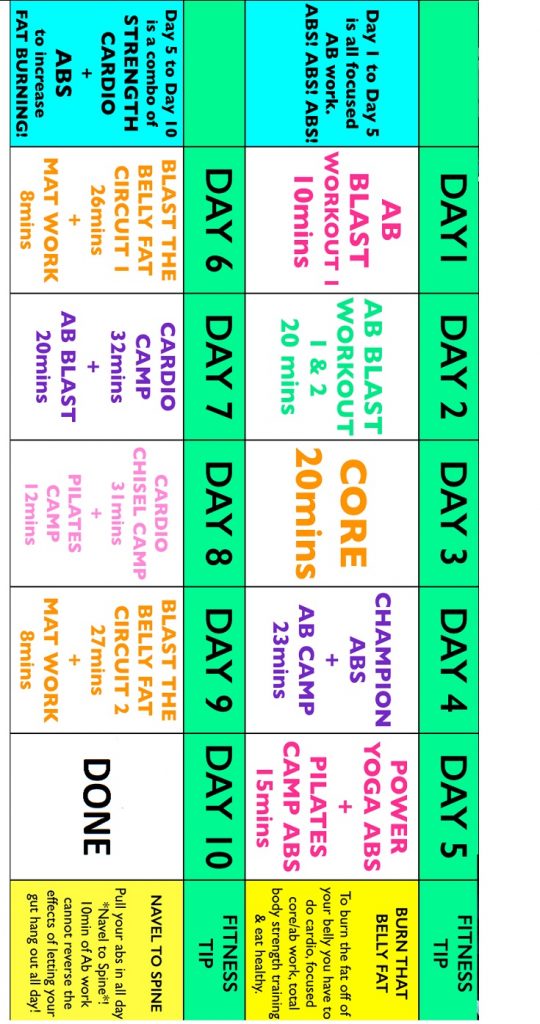 Source: Health Fitness Club