Get Instant Results Doing The 20 Solid "Pump" Moves
|
It is very well known to us that nobody gets the perfect body just overnight, so in order to be perfectly fit, you have to work hard for a long time and the more pounds you need to lose, the longer the process can be.
However, the thing is that there are certain exercises that make the blood flow directly into your muscles. And then you will see the muscles bulging in the way they should be when you are completely tone, but of course, the result will not last forever, but when there is an important event, this set of exercises can do you a very good job.
But, in spite of the provisional result, if you stick to this routine workout every day, you can make your body looks very good, and your journey to a perfect body will be reduced considerably, but always remember that you should always pay attention to your diet, otherwise the provisional result can just remain that way. You must also look out for doing the exercises correctly.
So let me remind you once more that nothing happens overnight just because you want it hard enough, but, on the other hand, if you work hard, there are great chances to be very rewarded and you will most likely achieve the desired goal, so it means that you need to use your chances and make your choice, because everything is possible, if you are determined to reach the goal. And that's why you stop wasting your time and getting busy.
These are the exercises that you need to do, exercises that work on every part of the body, so that you get amazing results and a well-formed and toned body.
#1. KETTLEBELL SWINGS
#2. DEADLIFT
#3.BICEP CURLS
#4. PULL UP
#5. RESISTANCE BAND MONSTER WALK
#6. CHEST FLY
#7. SUMO SQUATS
#8. REVERSE DUMBBELL FLY
#9. PUSH UP
#10. WALKING LUNGES
#11. TRICEP DIPS
#12.SQUATS
#13. STEP UP
#14. LEG RAISE
#15. SIDE LUNGES
#16. JUMPING JACK
#17. PLIE
#18. GOBLET SQUAT
#19. PLANK
#20. CRUNCHES
Follow the picture below and you can see some of the exercises and how to do it.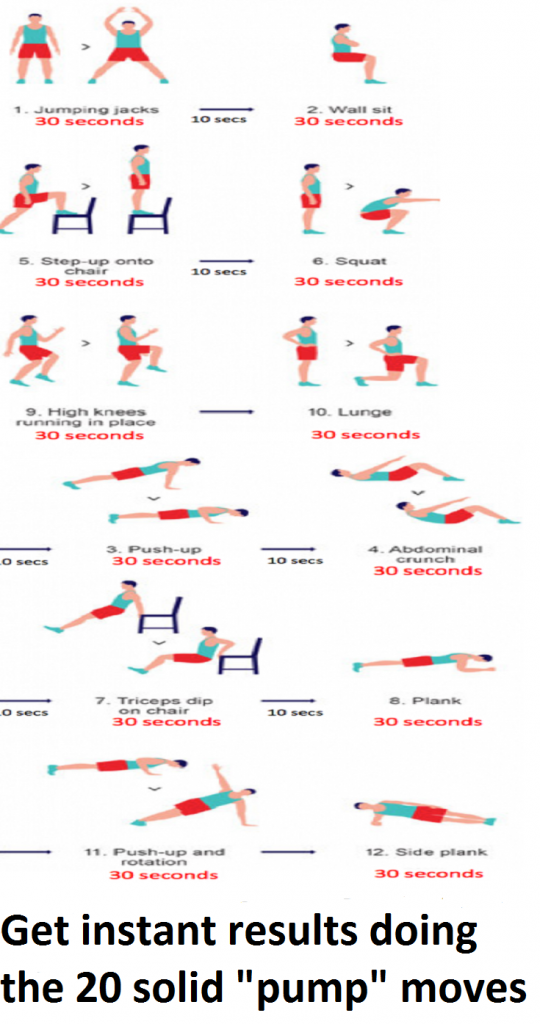 Source: Health Fitness Club