The Danish Diet Can Help You Lose Up to 5 Pounds in 13 Days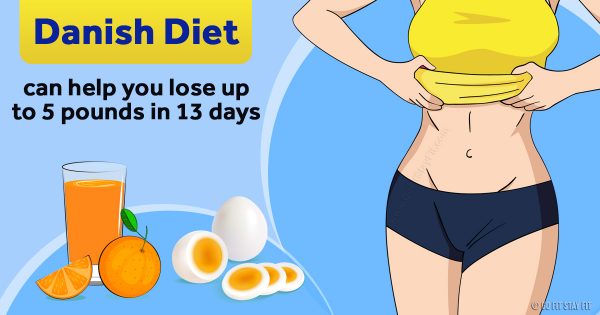 If you belong to a group of people who are overweight and look for an ideal diet that can help you lose extra weight in a quick and easy way, then you are reading the right article. We'll show you a daily diet plan from a Danish diet that provides you 5 pounds in just 13 days.
It is this diet that is known to have helped millions of people around the world to fight weight and improve their health. That's why we recommend that you start this diet from today, and in just 13 days you will notice the results.
The diet plan you should follow if you want to see the results:
Day 1
For Breakfast: A cup of herbal tea and a slice of dark rye bread
For Snack: A cup of herbal tea
For Lunch: Baked chicken with broccoli
For Dinner: Veggie soup
Day 2
For Breakfast: A cup of herbal tea and a slice of dark rye bread
For Snack: One apple
For Lunch: Spinach and goat cheese frittata
For Dinner: Chicken soup
Day 3
For Breakfast: A cup of herbal tea and a slice of dark rye bread
For Snack: A cup of green tea
For Lunch: Eggs with herbs
For Dinner: Tuna salad with veggies
Day 4
For Breakfast: a cup of herbal tea and a slice of dark rye bread
For Snack: One apple
For Lunch: Grilled salmon and asparagus
For Dinner: Celery sticks and carrots
Day 5
For Breakfast: A cup of herbal tea and a slice of dark rye bread
For Snack: A glass of lemon juice
For Lunch: Asparagus and soft eggs on dark rye bread
For Dinner: Tuna salad with eggs
Day 6
For Breakfast: A cup of herbal tea and a slice of dark rye bread
For Snack: A cup of ginger tea
For Lunch: Grilled salmon with herbs
For Dinner: Two tangerines
Day 7
For Breakfast: A cup of herbal tea and a slice of dark rye bread
For Snack: A protein bar
For Lunch: Cabbage salad with cucumbers
For Dinner: Boiled chicken breast with arugula
Day 8
For Breakfast: A cup of herbal tea and a slice of dark rye bread
For Snack: One cup of green tea
For Lunch: Tomato and cucumber salad with 2 boiled eggs
For Dinner: Veggie soup
Day 9
For Breakfast: A cup of herbal tea and a slice of dark rye bread
For Snack: One apple
For Lunch: Baked mackerel with tomatoes and onions
For Dinner: Steamed broccoli and cauliflower
Day 10
For Breakfast: A cup of herbal tea and a slice of dark rye bread
For Snack: A handful of almonds
For Lunch: Tomato soup and baked potatoes
For Dinner: Fruit salad
Day 11
For Breakfast: A cup of herbal tea and a slice of dark rye bread
For Snack: A cup of berries
For Lunch: Tuna salad
For Dinner: Vegetable salad
Day 12
For Breakfast: A cup of herbal tea and a slice of dark rye bread
For Snack: A cup of green tea
For Lunch: Chicken breasts and veggies
For Dinner: Veggie soup
Day 13
For Breakfast: A cup of herbal tea and a slice of dark rye bread
For Snack: A protein bar
For Lunch: 2 boiled eggs with tomatoes
For Dinner: Veggie salad
Source: Go Fit Stay Fit