Challenge: 30 Day ABS Challenge Can Help You Flatten the Belly
|
Completing a simple challenge will not only help you to get into a better shape but it will also teach you about discipline and responsibility. At the end of the challenge, the feeling of satisfaction is incredible.
This is an example of one of our subscribers which proved that if you're willing to do what it takes the results at the end of the day are incredible.
Last month I participated in the 30 Day Squat Challenge which I rocked right up until Day 24 when I was hit with the flu and wasn't able to stand/walk/get out of bed/stop whining for my mommy for days on end and am still recovering. I was very disappointed in myself for not being able to complete the challenge because I have always worked out sick and injured and this was the first time that literally felt I was unable to complete a task. (Although, one-day last week, when I felt I was able to start squatting again I resumed where I left off….but apparently the flu left me unable to do math because I overshot my squats and instead of doing 225 I did 265. My ass and thighs were very sore the next few days.)
My new task is to complete the 30 Day Ab Challenge.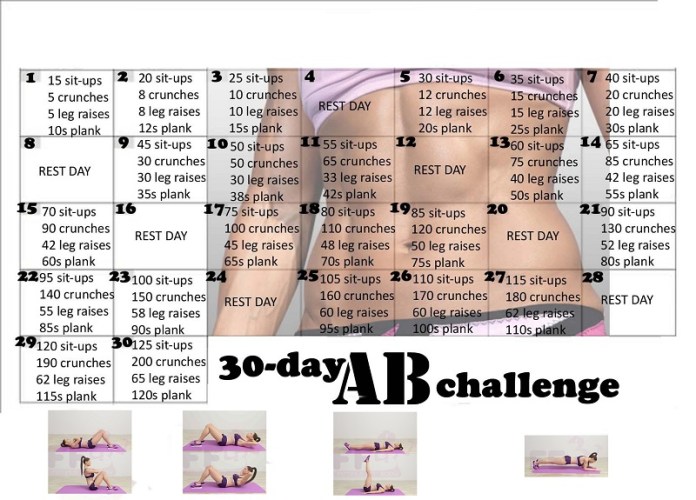 I was planning to start this challenge at the start of this month but, again, the flu hindered that. So I will be starting it very soon – probably next week, if not sooner. I want to be in full flu-recovery before I begin this challenge because I don't want to fail again – and this challenge looks pretty intense. And to be honest, my tummy is just not up for the task yet (although I have been working my abs in my workouts). I'm hoping (HOPING) that I will be back to great health soon, hopefully by next week, but as I mentioned in an earlier post, at this point I'm wondering if this flu bug is something more.
Once I do start the Ab Challenge I will post about it and the results. I can truthfully say that my thighs are tighter and stronger from participating in the Squat Challenge and my goal is to begin it again either mid-month or at the start of June (I like to have even 30 days to work with), so here's aiming for that.
Try this every month till you get to your desired stomach. Every month try and make the exercises more challenging.
Before and after
Source: Female Fit Body