Use This ACV Hair Rinse to Prevent Hair Loss, Stimulate Hair Growth, Eliminate Dandruff, and More!
|
Apple Cider vinegar is surely a product that every home should have. It is widely known for its antibacterial, antiviral and antifungal properties.
As an old folk natural medicine, the purposes for its use are numerous. From allergies, high cholesterol, gout, rheumatism, arthritis to weight loss and high blood pressure.
Furthermore, ACV can be of enormous help when it comes to acne and eczema treatment.
In today's article, we will talk about the benefits of ACV in the case of hair treatment. It is known that ACV can clean your hair and make it shine. However, not many people are aware that ACV also eliminate dandruff, soothe the itchy scalp and significantly decrease hair loss.
All these benefits can be reached by using raw, organic, and unfiltered apple cider vinegar.
Here Is Why You Should Use ACV for Your Hair:
The ACV naturally balances the Ph levels of your scalp and hair and it successfully removes accumulated buildup. These benefits come thanks to the acidity it contains. The store products usually dry the hair and mess up the ph levels.
– Induces Hair Growth
ACV can treat clogged hair follicles, therefore it is a great aid in the process of hair growth.
– Removes Dandruff
As we mentioned before, due to the strong anti-fungal and antibacterial properties, ACV can easily eliminate dandruff from your hair.
– Prevents Split Ends
Rinse your hair with ACV since it can close the cuticles, thus decreasing split ends and hair breakage.
– Makes Your Hair Shiny
The apple cider vinegar has the ability to make your hair shiny and smoother.
Here Is How to Prepare ACV Hair Rinse
The preparation method is very simple. The only thing that's important is that you use raw, organic, unfiltered, and unpasteurized ACV. Make sure you shake the bottle before use.
We recommend you to use Bragg's Apple Cider Vinegar, as is considered to be the healthiest and most effective ACV brands.
DIY ACV Hair Rinse Recipe

Ingredients:
– 2 tbsp. of apple cider vinegar
– A cup of water
– Several drops of your favorite essential oil (if desired)
Directions:
First, pour the water and the ACV in a spray bottle. You can also few drops of your essential oil for nice aroma.
How to Use It:
1. First Shampoo your hair. It is best to use home made natural shampoo. To learn how to make one, just follow the link.
2. Next, add the ACV hair rinse and massage your hair and scalp for 2-3 minutes.
3. For best results repeat the procedure 1-2 a week.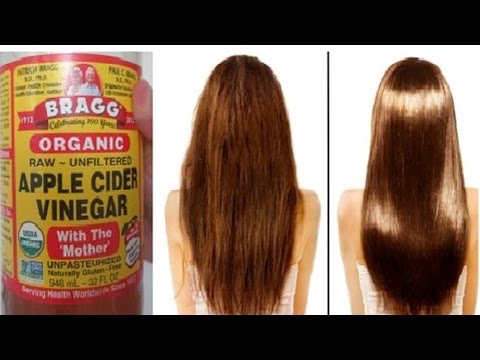 You Might Also be Interested in:
Source: Daily Health Keeper