5 Workouts For a Perfect Abs You Only Need a Chair
|
Exercising doesn't always mean going to the gym, it can be at home, outside in nature or any other place that you find comfortable. If you like exercising at home you will love these exercises that you can make only by using your chair.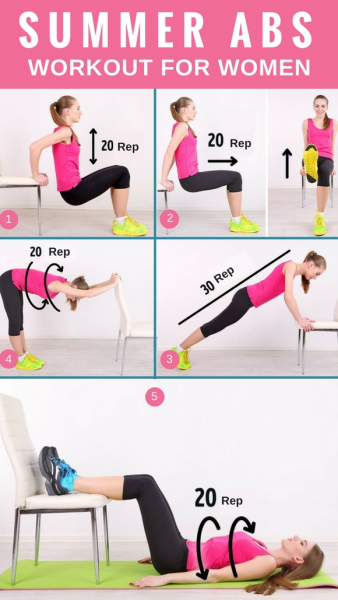 HERE ARE THE EXERCISES:
1. SINGLE KNEE LIFT
Simply sit on the chair and lift one leg after another. Make sure your knees are touching your chest. Do this exercise several times a day and you will burn your abdominal fat as you do.
2. DOUBLE KNEE LIFT
In this exercise, you hold on to the handle of your chair with both your hands and with your knees together you lift them up to your abdominal region. The pressure on your lower abdomen will help to burn out fat in no time, repeat the exercise as often as you can daily.
3. DOUBLE KNEE SIDE LIFT
While still lifting both your knees bend to the side of your body and lift your knees to put pressure on your waistline and burn out excess fat. Alternate between your left side and right side to achieve maximum results.
4. UPPER BODY ROTATION
While seated, raise your arms upwards at a 45degree angle at your elbows and turn your upper body from side to side. Do as many rotations as you can and watch your waistline shrink in the process.
5. TOUCH YOUR TOES
As you are in a seated position, stretch out your arms by your sides like you are a plane about to land. Then use your left hand to touch your right toe and then your right hand to touch your left toe. Make sure that as you touch your toe with a hand the other hand is still stretched out.
Source: Team Fitness Training