Only 4 Minutes a Day Workout, See Results In Less Than a Month
|
If you want to lose weight and get your body in shape for the next season then this is the perfect and the easiest way to achieve great results. The number one reason why people fail to lose weight is that they don't have discipline.
With all the daily tasks it can be challenging to go to the gym every day and lose all that time. In today's article, we present to you a simple way that will only take minutes of your time and we promise you that at the and of the month you'll be surprised by the results.
If you haven't tried planks before you might think that this is a way to easy exercise to be so effective. However, the thing is that it is not easy and you will find that out soon as you tried and also it is extremely effective as you will feel your abdominal core burning after each session.
First, you need to be in this position for 20 seconds only and not to over stress your body. You need to increase the time gradually. Doesn't that sound quite simple?
Gradually but progressively, you will upsurge your endurance still you can do a plank for four minutes at one go. For this you need to follow the below-mentioned plan:
Day 1 — Begin with 20 seconds
Day 2 — Continue with 20 seconds
Day 3 — Increase to 30 seconds
Day 4 — Continue with 30 seconds
Day 5 — Increase to 40 seconds
Day 6 — Relax
Day 7 — Increase to 45 seconds
Day 8 — Continue with 45 seconds
Day 9 — Increase to 60 seconds
Day 10 — Continue with 60 seconds
Day 11 — Continue with 60 seconds
Day 12 — Increase to 90 seconds
Day 13 — Relax
Day 14 — Continue with 90 seconds
Day 15 — Continue with 90 seconds
Day 16 — Increase to 120 seconds
Day 17 — Continue with 120 seconds
Day 18 — Again increase to 150 seconds
Day 19 — Relax
Day 20 — Continue with 150 seconds
Day 21 — Continue with 150 seconds
Day 22 — Increase to 180 seconds
Day 23 — Continue with 180 seconds
Day 24 — Increase to 210 seconds
Day 25 — Relax
Day 26 — Continue with 210 seconds
Day 27 — Increase to 240 seconds
Day 28 — Do as per your improved stamina.
Also, it is important to know how to do the planks properly so take a look at the description below.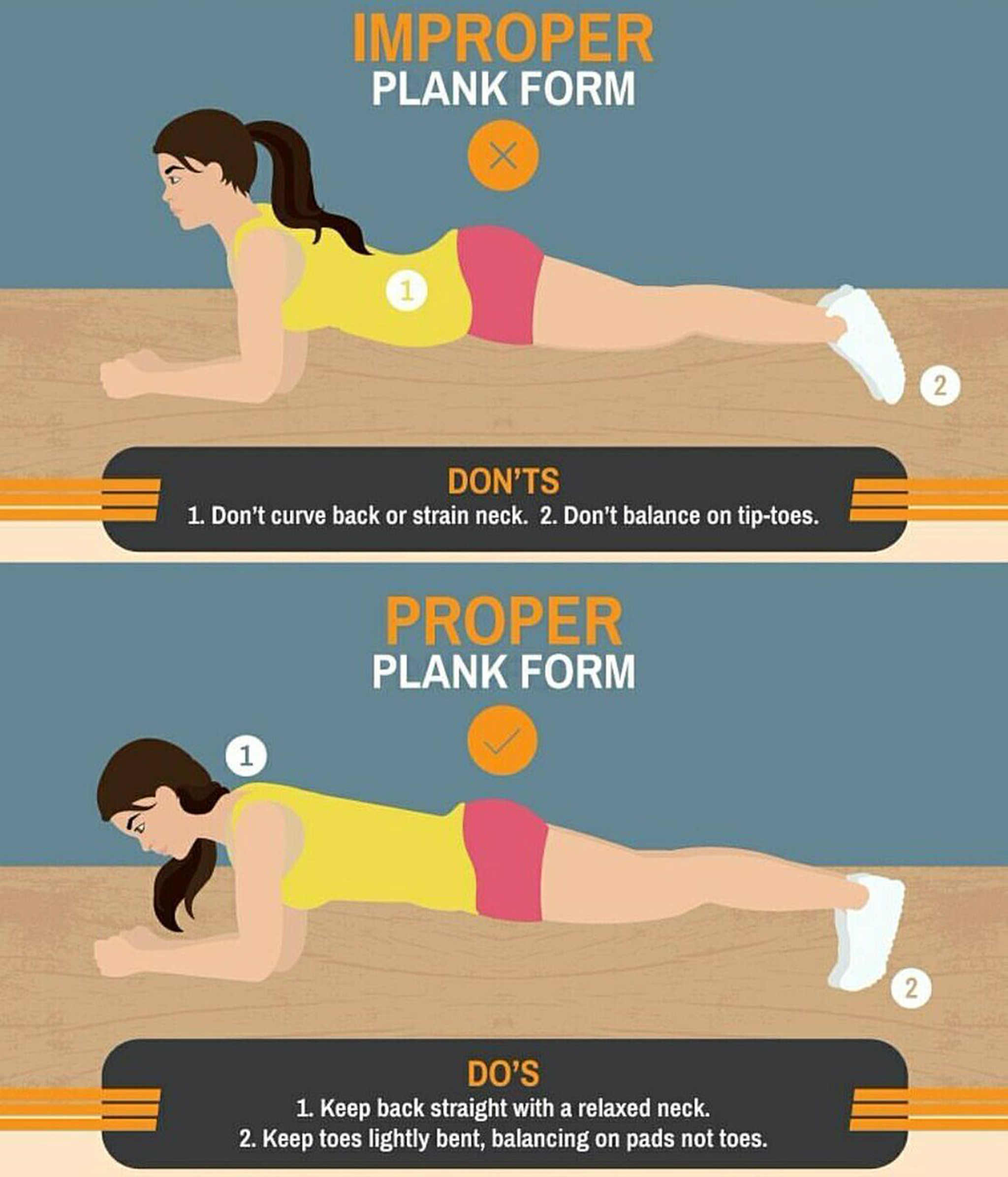 Plank is a static exercise. There are no movements, and the most important thing is to hold the body properly. Lie on the floor with your stomach down. Bend your elbows by 90 degrees and lie in a resting position leaning against them. The body must form a straight line from head to toe.
Source: Train Hard Team