30 Days NO-Gym Home Workout Plan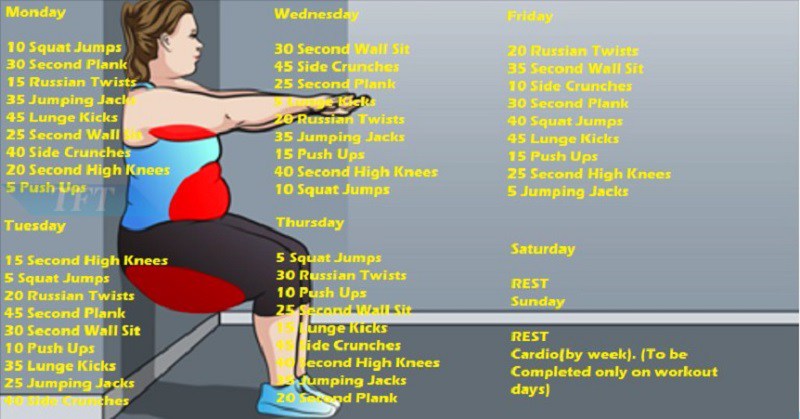 In order to have a fit and healthy body exercising and a good diet is a must. Many people try to make a change in their life but usually, they give up too early and they never see the results. That is why we present to you a 30 days workout plan that you can do from home.
Complete the challenge and you will be amazed by the results.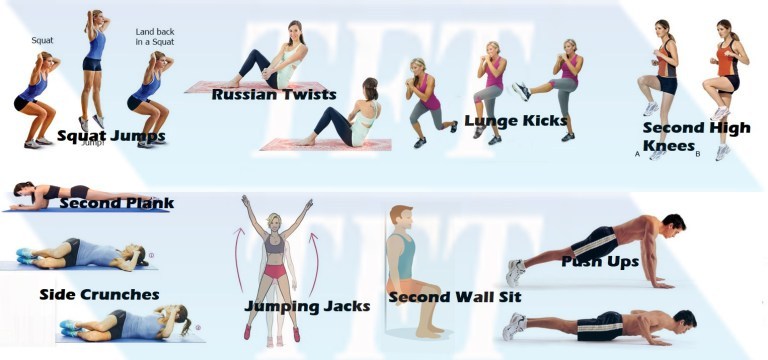 Monday
10 Squat Jumps
30 Second Plank
15 Russian Twists
35 Jumping Jacks
45 Lunge Kicks
25 Second Wall Sit
40 Side Crunches
20 Second High Knees
5 Push Ups
Tuesday
15 Second High Knees
5 Squat Jumps
20 Russian Twists
45 Second Plank
30 Second Wall Sit
10 Push Ups
35 Lunge Kicks
25 Jumping Jacks
40 Side Crunches
Wednesday
30 Second Wall Sit
45 Side Crunches
25 Second Plank
5 Lunge Kicks
20 Russian Twists
35 Jumping Jacks
15 Push Ups
40 Second High Knees
10 Squat Jumps
Thursday
5 Squat Jumps
30 Russian Twists
10 Push Ups
25 Second Wall Sit
15 Lunge Kicks
45 Side Crunches
40 Second High Knees
35 Jumping Jacks
20 Second Plank
Friday
20 Russian Twists
35 Second Wall Sit
10 Side Crunches
30 Second Plank
40 Squat Jumps
45 Lunge Kicks
15 Push Ups
25 Second High Knees
5 Jumping Jacks
Saturday
Sunday
Cardio(by week). (To be Completed only on workout days)
20-second sprint, 15-second jog (5x)
30-second sprint, 40-second jog (6x)
45-second sprint, 60-second jog (7x)
60-second sprint, 45-second jog (8x)
Source: Female Fit Body