10 Week No-Gym Home Workout Plan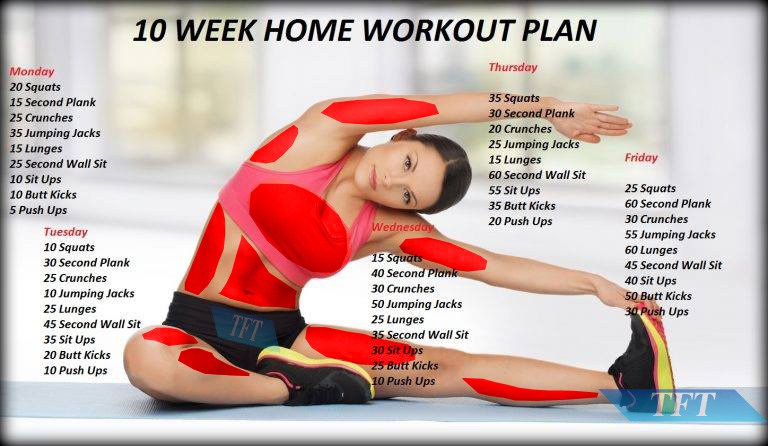 Challenges are a great way to make changes in your life. They are effective because to complete them you need to go all the way to the end. When it comes to workout plans this is a must. In order to see results, you need to be patient as it won't come the first nor the second day.
This workout plan is extremely effective and the best part is that you can do it in the comfort of your home.
Monday
20 Squats
15 Second Plank
25 Crunches
35 Jumping Jacks
15 Lunges
25 Second Wall Sit
10 Sit Ups
10 Butt Kicks
5 Push Ups
Tuesday
10 Squats
30 Second Plank
25 Crunches
10 Jumping Jacks
25 Lunges
45 Second Wall Sit
35 Sit Ups
20 Butt Kicks
10 Push Ups
Wednesday
15 Squats
40 Second Plank
30 Crunches
50 Jumping Jacks
25 Lunges
35 Second Wall Sit
30 Sit Ups
25 Butt Kicks
10 Push Ups
---
---
Thursday
35 Squats
30 Second Plank
20 Crunches
25 Jumping Jacks
15 Lunges
60 Second Wall Sit
55 Sit Ups
35 Butt Kicks
20 Push Ups
Friday
25 Squats
60 Second Plank
30 Crunches
55 Jumping Jacks
60 Lunges
45 Second Wall Sit
40 Sit Ups
50 Butt Kicks
30 Push Ups
Sat/Sun
REST
Cardio (by week)
30-second sprint, 30-second jog (5x)
35-second sprint, 45-second jog (6x)
45-second sprint, 60-second jog (7x)
50-second sprint, 45-second jog (8x)
55-second sprint, 30-second jog (7x)
60-second sprint, 45-second jog (6x)
65-second sprint, 60-second jog (5x)
70-second sprint, 45-second jog (6x)
75-second sprint, 30-second jog (7x)
80-second sprint, 45-second jog (8x)
Source: Team Fitness Training