Plank Challenge: 30-Day Workout to Lose Belly Fat and Tighten Your Stomach
|
The abdominal area and waist accumulate fat quickly, so there is no better way to reduce this area than doing a plank, which is a good exercise to strengthen the belly safely.
This exercise is very useful for a flat stomach and strong abs, as well as for relieving back pain, as strong abdominal muscles can better support the spine.
Therefore, you will not need hours to stay in shape, since with just a few minutes a day your body will start to show results.
Here we show you how to do the plank exercise: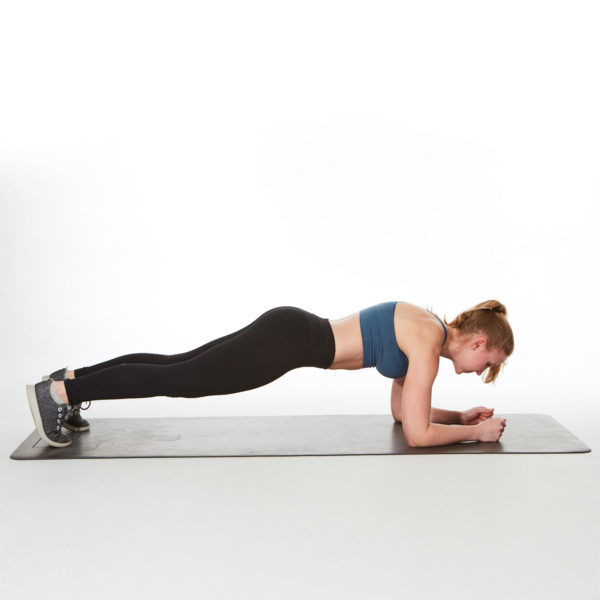 Lie on the floor, face down.
Position your arms so that your shoulders are directly above your elbows, with your wrists aligned with your elbows in a straight line (see image above).
Contract your abdominal muscles and glutes (the muscles that make up your buttocks) and hold the position for as long as you can. Gradually lengthen the position holding time.
Rest about a minute between repetitions.
Try to resist as long as possible.
The plank is one of the best body strengthening exercises for both men and women. It burns belly fat and also that of the shoulders, arms, and legs.

During the 30-Day Plank Challenge, you'll do a plank exercise for a set number of seconds, increasing each day.
Day 1 – 20 seconds
Day 2 – 20 seconds
Day 3 – 30 seconds
Day 4 – 30 seconds
Day 5 – 40 seconds
Day 6 – Rest
Day 7 – 45 seconds
Day 8 – 45 seconds
Day 9 – 1 minute
Day 10 – 1 minute
Day 11 – 1 min
Day 12 – 1:30 min
Day 13 – Rest
Day 14 – 1:30 min
Day 15 – 1:30 min
Day 16 – 2 min
Day 17 – 2 min
Day 18 – 2:30 min
Day 19 – Rest
Day 20 – 2:30 min
Day 21 – 2:30 min
Day 22 – 3 min
Day 23 – 3 min
Day 24 – 3:30 min
Day 25 – 3:30 min
Day 26 – Rest
Day 27 – 4 min
Day 28 – 4 min
Day 29 – 4:30
Day 30 – 5 min