Spoon Massage: Incredible Effects Only In 12 Days With No Cost (Video)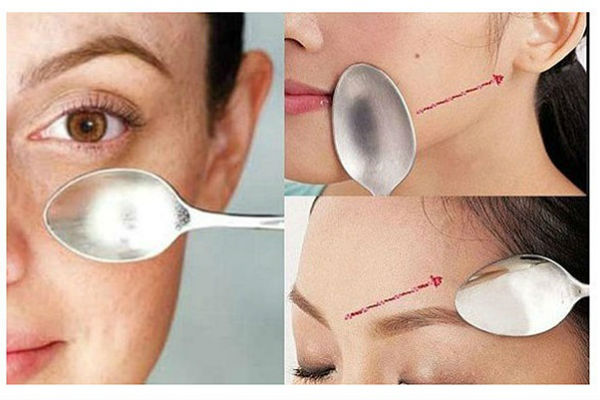 For every woman after 30 years is very important to practice facial massage. This has to do with the fact that the elasticity of the skin begins to gradually weaken, and the subcutaneous tissue becomes more expressive.
Preserve your youth and beauty with help of massage spoons, which this method is recommended by German doctors-cosmetologists Rene Koh.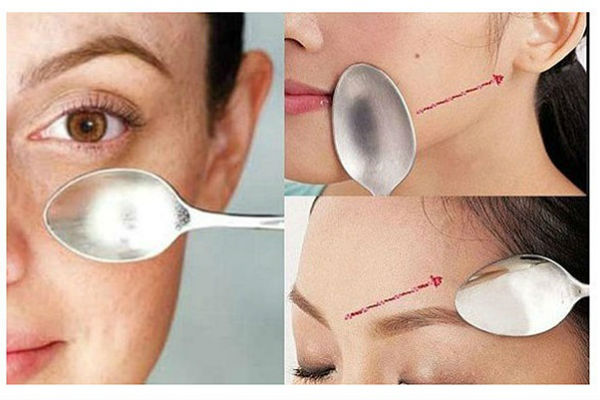 Why this treatment is so good?
Quite simply, in home conditions this process can be achieved and there will be an amazing results: from the tissue out excess fluid, improve blood circulation, make the skin taut and elastic, reduce wrinkles and restore facial contours expressiveness. All of that with no money cost at all.
For 10-12 days, you can achieve incredible results, but you have to be consistent and perform this massage on a daily basis.
The massage technique is very simple. Just take a teaspoon, a glass of cold water with ice cubes, and a small bowl of warmed oil (olive, calendula, flax, sunflower). Perform the process according to the following scheme:
1. Remove makeup and nicely rinse your face with water and apply a moisturizing cream. Meanwhile place the spoons to disinfect with alcohol and put it in a glass with water and ice.
2. Place the chilled spoon on the upper eyelids.. Hold for a few seconds. Repeat this five times. Change the worm with the cold spoons.The same procedure is done with the lower eyelids. This method will help you with swollen eyelids and dark circles.
3. Next step, leave the spoons in a warm oil for a short period of time. After that you can start a facial massage.
With slight pressure move the spoon after the massage lines face.
The basic massage lines:
– On the forehead from top of the nose to the temples and the line of hair growth.
– On the eyelids with circular movements from the inner corner and back to it.
– On the cheeks from the nostrils of the nose to the temples.
– The chin towards the temples.
– On the neck, from its beginning to the chin.
Each movement performed at least 10 times.
Every time, when the spoon is difficult to glide, apply more oil on it.
Then after the massage, wash the face with hot water.
The optimal duration of this massage should be 10 minutes. But increase the duration daily. Start with 1 – 2 minutes daily increasing one minute at a day. The tenth day the massage should last for 10 minutes.
But already after the first day of self –massage, you will feel the effect –complete relaxation!
Massage with spoons is not complicated and is a comfortable procedure for facial rejuvenation.
You can do it whenever you want, time is unlimited. But it is best to do in the series 10-12 days continuously without interruption.
In this video Russian doctor cosmetologist Angelica Shandra explains the procedure for face massages with spoons for beginners: