An Old Homemade Recipe: An Antivirus Drink To Fight Colds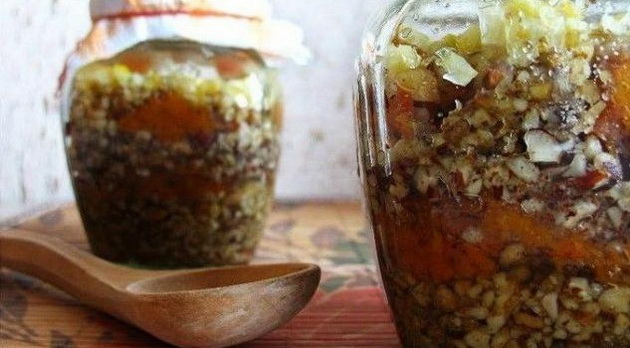 The season of colds and viruses is slowly approaching, so now is the ideal time to protect yourself the natural way and to strengthen your immune system.
You can buy all the ingredients for this recipe at a market or health food store.
There are quite a few ingredients, but at least it will help your body become stronger.
You need:
– 100g dried apricots
– 50g aronia
– 100g dried figs
– 200g prunes
– 1 medium sized ginger root
– 100ml freshly squeezed lemon juice
– 100g walnuts
– 100g almonds
– 50g hazelnuts or pistachios
– 50g cranberry
– 5 tablespoons of honey with propolis and 250g honey.
Put all the ingredients, except the honey, into a big bowl. Chop the fruit and add the lemon juice. Cut the ginger and then grate it.
Add the honey and mix well with a wooden spoon.
Ration the mixture into jars.
The mixture needs to stand for a few days before you eat it. Feel free to give it to children older than 2 years.
For children one teaspoon in the morning daily and for adults 2 teaspoons during the day.