A Fast And Delicious Fruit Cake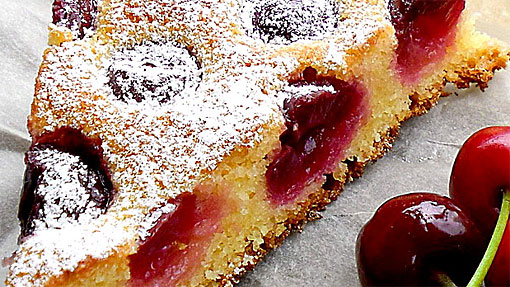 This cake is a favorite and is incredibly easy to make. Today we've decided to make it with sour cherries. You don't need any special skills to prepare this and you can be sure that with this special dessert you'll thrill everyone!
Ingredients:
5 eggs
3 cups sugar
3 cups oils
6 cups flour
1 satchel of baking powder
1 Tablespoon yogurt
500gr sour cherries (you can as much as you like).
Preparation:
Beat the eggs with a mixer and add all the ingredients except the sour cherries. Spread baking paper onto a tin and pour 2/3 of the mixture on to it. Add the sour cherries on top then pour the remaining 1/3 of the mixture.
Bake for about 25 to 30 minutes at 170 degrees. When almost cool sprinkle with powdered sugar.
Tip: Instead of sour cherries, you can also make this cake with: plums, apricots, raspberries, peaches or apples.